Emergency Containment Spill Kit 20 Gallon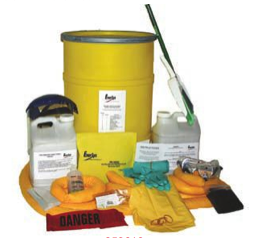 Emergency Containment Spill Kit 30 Gallon 
PRO Series
offers this 20 gallon easy-to-use emergency spill clean up
and containment kit for battery acid. All the tools and supplies needed to
safely clean up and dispose of up to 11 gallons of battery acid spills.
The kits are designed for fast response and quick clean up. Each item is
packed so you can quickly don the safety gear, contain the spill, neutralize
and absorb the acid and finally place in the DOT approved container and
ship for disposal. Quick, clean and safe.
[--split--]
Meet all requirements:
The complete Emergency Spill Containment Kits meet these OSHA specifications and DOT requirements of packaging and transporting of hazardous wastes:
1926.441(a)(5) "Face shields, aprons, rubber gloves and quick drenching facilities shall be provided for workers handling acids or batteries."
1910.178(g)(2) "Facilities shall be provided for neutralizing spilled electrolyte."


Notes
User of this kit is responsible for having received the proper training in the operation and handling of the kit's contents.