Battery Watering Technologies Gravity Feed Tanks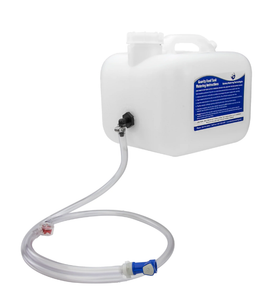 Battery Watering Technologies Gravity Feed Tanks
These stationary auto-fill tanks from Battery Watering Technolgies are equipped with hose lines for low pressure systems, and are best used in applications where your water supply will be plumbed directly into the tank - no need to fill the tank manually. They are ideal for watering multiple batteries at one time.
These tanks should be positioned at least three feet above the batteries on sturdy shelving to ensure proper and efficient water delivery. 
All tanks feature flow indicator wheel, clear tubing, blue connecting end, and carrying handle positioned at the front of the tank for easy transporting.
NT2212GF - 2.5 gallon 10" length x 10" width x 10" height gravity feed tank. Comes with the 09FBLU1 connector (gray ends available upon request) Does not come with a shelf (see item number S2000T) 
NT2000GN - 5 gallon 10" length x 10" width x 10" height gravity feed tank. Comes with the 09FBLU1 connector (gray ends available upon request)
TSC2000N - Combo of NT2000GN watering tank, 09FBLU1 connector, and black finished wall-mountable shelf
*Shipping not included in price
If you have any questions or would like to request more information, please contact us at 844-445-1119 or store@raymondhandling.com
[--split--]