Battery Watering Technology Manual Watering Gun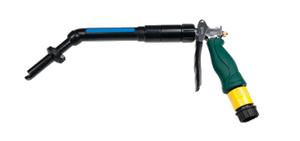 Battery Watering Technology (BWT) Manual Watering Gun
If you need to safely and efficiently water batteries without an automatic watering system, the BWT manual watering gun is a great choice -  simply connect the watering gun to a standard hose or deionizer, place the tip of the gun into the individual battery cell that you are watering, and squeeze the trigger.   
Features and Specs:
Fill Speed: 1.7 GPM makes battery filling a quick, no-hassle process.
Nozzle Size: .67"/17mm fits into flip-top vent caps and all standard quarter-turn, bayonet and DIN openings. The watering gun's 45 degree nozzle makes it comfortable to use, with no awkward bending over to assure you get the right fill.
Safe and reliable:  The automatic shut off means water pressure will automatically stop when the fill is complete. Guaranteed to fill to the correct level each time. The gun is made with ABS plastic which is durable, and comes with an ergonomical easy-squeeze handle design.