Counterbalance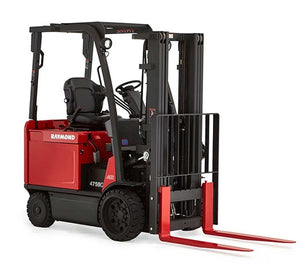 Call for pricing and option
4150
The Raymond 4150 Stand Up Forklift is easy to operate and maneuver in dock and warehouse applications. With 3,000 and 3,500 load capacities, this versatile counterbalance truck is suited to get rough dock jobs done. The powerful AC Drive system provides power, torque and stamina, adding to its ease of operation in a variety of applications.
4250
The Raymond 4250 stand up forklift is engineered to take productivity to a whole new level—from the floor on up. This efficiently engineered stand up fork truck uses less energy than competing models, delivering a lower total cost of ownership. Your operators will appreciate the ergonomic features, from the smooth ride provided by the ComfortStance Suspension to the open view mast and single-axis control handle. 
4460
The Raymond 4460 sit down forklift features a low profile and excellent operator visibility for exceptional performance and productivity in confined spaces. This electric forklift is ideal for tasks in trailers, ramps and stacking areas.
4750
The Raymond 4750 4-wheel sit down forklift is designed with rugged masts, heavy duty AC drive and lift motors, excellent visibility and operator comfort, making this truck the perfect fit between man and machine. 
[--split--] 
RHCC Territories

 

 

Washington, Oregon, Alaska, Northern California, Idaho, Nevada, Montana. 
 -------- 
Inquires outside of above territories, please contact us at 844-445-1119 or store@raymondhandling.com for the closest Raymond Service Center.