Ergomat Infinity Polyurethane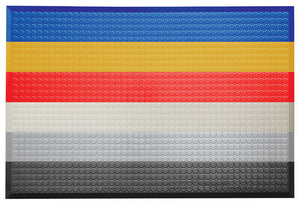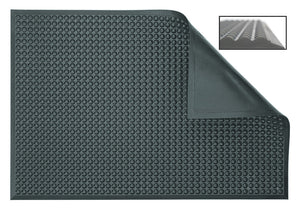 Ergomat Infinity Polyurethane
Bubble, Plano, or Smooth
Ergomat Infinity Polyurethane is the only true ergonomic mat available with up to a 12 year warranty (in dry applications). The Infinity mat has the comfort of a Polyurethane mat and has the added benefit of easy clean-ability due to its closed-cell/non-porous top surface. Ergomat Infinity also has extremely good chemical and UV resistance (except for organic solvents). Cleanroom ISO Class 5 (Class 100).
Unmatched Safety Features
 Molded beveled edges

They will never curl up, eliminating tripping hazards

 Any size, any shape mat, always in one piece

No overlapping or worn-out connecting mats, also eliminating tripping hazards
Highest Quality
 Raw virgin material only

Unbeaten durability and ergonomic relief

Silicone & latex-free

Not only anti-fatique, but also true ergonomic benefits

Solid mat throughout; no hollow bubbles that collapse
The Infinity Advantage

Chemical and UV exposure will not affect the state of the top of the mat; no curling up, swelling, or expanding

The White color offers "extra light" to any assembly line and areas where visual inspection is critical

The closed cell / non-porous surface allows for easy wash down / cleaning

 Anti-static properties

Cleanroom ISO Class 5 (100)

ESD (electrostatic dissipation) option available for additional charge on Bubble and Smooth textures
Ergomat Infinity Polyurethane - Bubble, Plano, or Smooth is not only anti-fatigue, but also true ergonomic benefits:
Unique ergonomic designs, eliminating and preventing common problems encountered in standing environments, by stimulating the body to increase blood circulation and alertness, helping reduce sick leaves, workers' compensation and quality issues.
Price Includes:
One Ergomat Infinity Polyurethane Mat made of a texture of your choice (Bubble, Plano, or Smooth), color available in Bubble and Smooth (Black, Silver, White, Red, Yellow, Blue) and size (3 ft x 2 ft, other sizes available at $26.25/31.25 a square foot depending on texture- add number of square feet desired in cart using one square foot option and desired texture- note the dimensions in order)

Comes standard in 2, 3, 4, 5 and 6 feet widths with any height for square foot price, any custom size order other than standard is 15% more

12-Year Warranty*
*All Ergomat product lines are conditionally warranted against normal usage* 24 hours a day, 7 days a week. The warranty does not cover damage caused by the mat being dragged or pulled from a heavy load or items being pushed or dragged across the product, such as skids or pallets. The warranty against chemicals, oils, liquids, or other matter differs with the type of mat. Please consult your dealer or an Ergomat Rep to select the correct mat for your environment. The warranty periods starts from the date of purchase. The warranty only covers the replacement of the product, no direct or indirect costs are covered.
*It is considered normal usage when a person stands or walks on the Ergomat with regular footwear in an environment where the temperature is under 25º C (77º F) and the humidity is below 80%.
Does not include shipping.
If you have any questions, please contact us at store@raymondhandling.com or 1-844-445-1119.