HyperLite Extension Ladder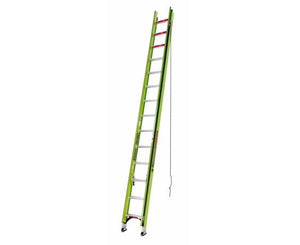 The Little Giant® HyperLite® extension ladder is the lightest Type IA fiberglass extension ladder in the world, bar none.
The patent-pending HyperLite weighs up to 40% less than the leading competitor's standard fiberglass ladder without sacrificing strength and stability. The HyperLite's wide rungs provide great comfort, reducing foot fatigue. It also features Little Giant's unique side-mounted, dual-pulley system, which reduces the effort required to lift the fly section by 45% (based on tests performed in a controlled ANSI-compliant test lab) and removes a potential trip hazard caused by traditional center-pulley rope systems. Little Giant's patent-pending hi-viz green rail is one of the most easily detected color hues to the human eye, which helps prevent accidents caused by people who do not see the ladder in use.
[--split--]