Power Start Assist Hand Pallet Jack - PST23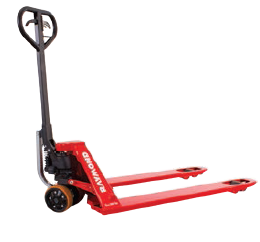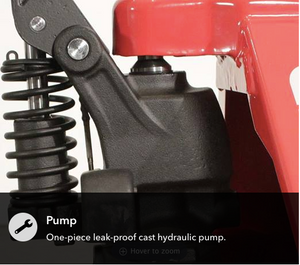 Power Start Assist Hand Pallet Jack - PST23
The Power Start Assist Hand Pallet Jack reduces inertial resistance through an innovative labor-saving system. Standard features include powerthane wheels and polyurethane rollers, entry and exit rollers, solid pushrods and 10 grease fittings. Manual pumping of the handle up or down and the truck can be maneuvered in any direction even with maximum load. Powerthane drive wheels are for high capacity and traction.
 For nearly a century, Raymond has provided material handling solutions to thousands of companies in every major industry segment, resulting in extensive cross-industry experience that is second to none. We've led the material handling industry and literally "written the book" on innovation - from inventing the hydraulic hand pallet truck and the double-faced pallet, to revolutionizing the warehouse with the narrow aisle, and developing the breakthrough lift trucks that help your operations achieve their full potential.
 PRICE INCLUDES
One (1) New Raymond Power Start Assist Hand Pallet Truck


[--split--] 
TRUCK WARRANTY
2 year on hydraulic pump and chassis
1 year on Power-Start mechanism
6 months on wearable items
NOTES
Freight Extra- Freight quote available
Sales Tax Extra if applicable
 
RHCC Truck Territory- Washington, Oregon, Alaska, Northern California, Idaho, Nevada, Montana. 
Inquires outside of above territories, please contact us at 844-445-119 or store@raymondhandling.com for the closest Raymond Service Center.