Safety Post Retracta-Belt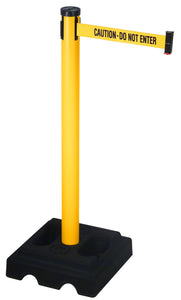 Safety Post Retracta-Belt
Safety Post Retracta-Belts is made to be put anywhere you need it with no mounting or installation required. The posts come with the belt inside of it, unless a receiver end is selected (allowing a belt to hook into the receiver) Comes with base, and the 30 feet belt posts come with wheels on the base. The posts can be stacked and gathered efficiently for easy storage when they are not being used. Available in several standard length, color, and portable options and non standard customization available, you can pick and choose your features to provide the best solution for your unique situation. All of the options are an outdoor-rated post that is constructed of a premium plastic or high quality aluminum post. The PVC post is extruded from 100% virgin material and additives for superior strength. We use UV inhibitors to ensure color fastness and to prevent the stanchion from drying out and becoming brittle. It is ideal for marine use, outdoor construction sites, loading areas and airport tarmacs.
[--split--]
Typical Applications:
Airplane/bus/cruise ship loading
Closing parking lots
Guarding large machinery
Warehouse maintenance and other long span requirements
Features:
Patent pending braking system: creates the safest post on the market
High impact polycarbonate material: greatly increases durability
Outdoor-rated wheels: included for easy transportation and quicker setups for 30 ft model
Weatherproofed baseweight: with molded rubberized floor protectors
All parts easily replaceable
Extra heavy 30 lbs. cast iron baseweight: ensures stability for 30 ft model
Post remains sturdy in all situations
Quick and easy queue setup: roll fewer posts into place
Posts available in multiple colors and aluminum or stainless steel
Quality Guaranteed:
Heavy gauge construction: combined with proven designs, strict quality standards and premium materials ensures that the product will last for years.
High impact polycarbonate material: greatly increases durability. Typically found in bulletproof panels.
Safety Features:
Redesigned E-Z Back braking system: creates the safest post on the market. Patent pending rotary damper technology ensures a safe, controlled retraction of the belt at ANY length. More consistent, controlled, and reliable than centrifugal pad designs.
Red slide action manual locking belt clip:prevents accidental release of the belt due to line ducking.
Cost-Saving Features:
Individual part replacement: why pay $50 for a new assembly when you only need a $5 part?
Built-in sign attachment: no need for costly adapters. Does not take up receiving ends and limit attachment of belts.
Belt Features
3 receiving ends: allow attachment of belts from any direction.
Universal belt end: integrates with most competitors' products, including both internal groove as well as external dovetail designed products.
Belt End Upgrades
Magnetic belt end: attaches to magnetic surfaces without a receiving end.*
Suction cup belt end: attaches to glass, ceramic or metal surfaces temporarily.*
S-Hook belt end: attaches to warehouse shelving or wraps around poles and connects to itself.
Belt Advantages:
Durable polyester belt: same belt in all models. Unlike our competitors, we've created new Retracta-Belt mechanisms to get a longer belt instead of cramming a thinner, less durable belt into existing posts which appear wavy and flop over.
Stainless steel spring: keeps 2" high strength, tightly woven belt taut at any length.
Finishing Touches:
Rubber floor protector: standard on our 18 lb. cast baseweight.
Heavy chrome plated or powder coated finishes:ensures finish won't peel or crack over time.
Stainless steel hardware: used throughout to eliminate rust potential.
Additional options listed above available per request. For any questions or inquiries about a customized option, please contact us at store@raymondhandling.com or 844-445-1119.