Steel Truck Dockplates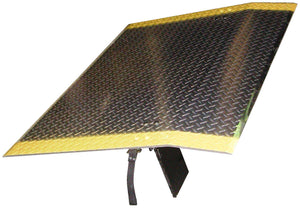 For use where regular dockboard curbs would interfere with loads, or where fork truck must make sharp turns when approaching or leaving dockboard. Ideal for handling extra-high unitized loads when fork trucks cannot lift loads above height of side curbs when entering or leaving trailers.
Steel dock plates offer higher capacities, but give up some of their portability as they weigh more than aluminum dock plates. Some of the high-capacity, steel dock plates can accommodate forklifts, though load weight is important. Steel dock plates can handle capacities reaching up to 17,000 pounds. Steel dock plates come with a one piece lift chain and make moving and positioning the plates very easy.
ALL MODELS CONSTRUCTED OF 1/2" THICK STEEL TREAD PLATE AND 1-PIECE LIFTING CHAIN.
[--split--]